Here's what we found NOT to do as a business owner whilst analysing Australian small business statistics
We focused on contemporary small business statistics focusing on whether topics such as age, marketing, capital and other various factors are relevant to a successful or doomed small business.


Featured Statistics:
Small businesses and family enterprises take about 97% of the total number of businesses set up in Australia (Small Business Loans).
Australian small businesses and family enterprises contributed over 32% of Australia's total GDP (which is about $418 billion) (Small Business Loans).
Largest Small Business Employer - Construction 750000 (Companies Direct)
45-59 Age Bracket of Small Business Owners - 40% (Companies Direct).
The high business failure rate in Australia is 60% of businesses will fail in the first three years, and of those who fail 50% are profitable (Inline Partners).
Highlighting the tough business environment, of all the new businesses started 4 years ago, almost half (46%) are no longer operating. Of the more than 2 million businesses operating in Australia 4 years ago, one in three no longer exist (36%).
11% of small businesses fail due to sales and marketing problems (Open Colleges)
Small business owners report they spend an average of 12 days per year chasing unpaid invoices. 27% of small businesses that don't insist on upfront payments have been forced to take loans or use credit to pay suppliers and wages (JMA Credit Control).
58% of SMEs said sound financial management was a key success metric. 56% of SMEs reported that positive word of mouth was a measure of success (Nine Advisory).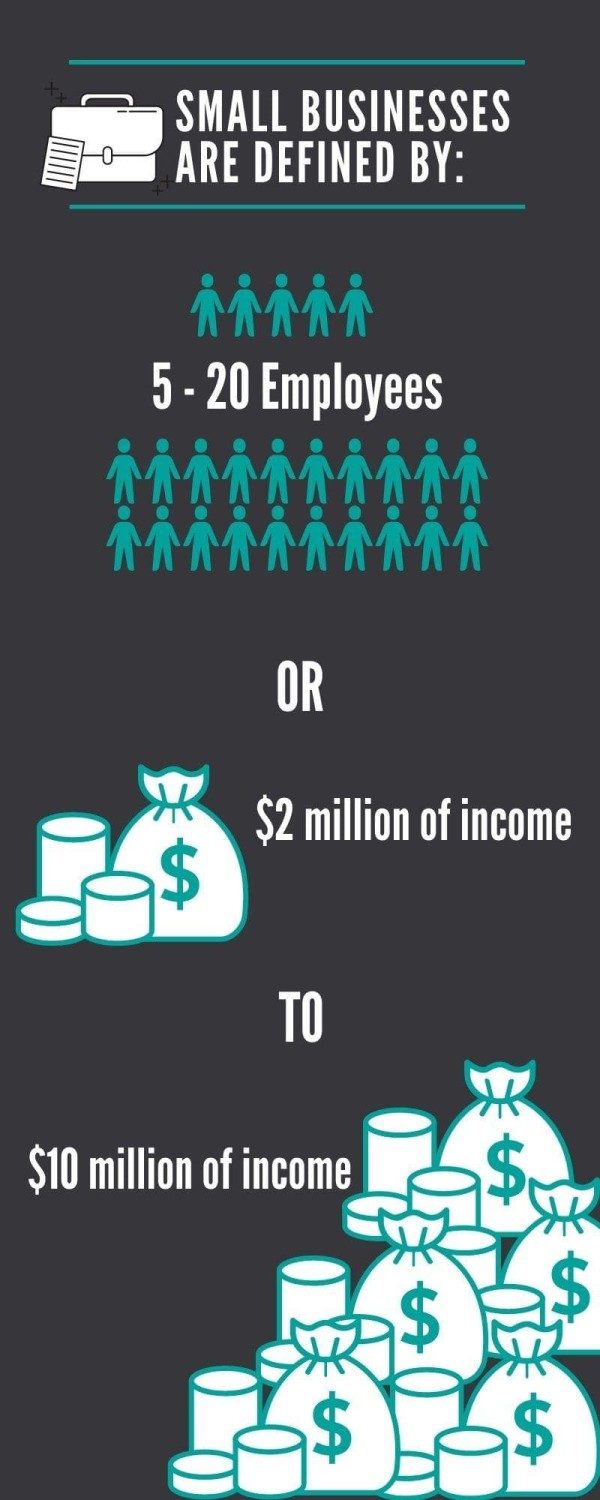 Let's start off with discussing the accurate terminology for a 'small business' in Australia. What makes a business 'small'? Well, a small business is defined by a business with no more than 20 employees, in terms of looking at it from an employee perspective. This includes sole proprietorships as well as partnerships, micro businesses which is a business with 1-4 employees and other small businesses with 5-20 employees. A small business can also be defined in monetary terms by the revenue generated annually which is between $2 million and $10 million per annum. So, if your business applies to any of the definitions above, it's time to chime in! Although small businesses often feel as though they can't catch a break between Covid-19, competing with the big companies and trying to get their brand noticed, they definitely aren't the minority within the business world. Small businesses make up 97% of the total businesses currently set up in Australia, contributing 32% to Australia's total GDP (Gross Domestic Product) which is around $418 billion dollars making small businesses a major economic contribution. As of 2019, the construction industry is the largest small business employer followed by the professional, scientific and technical services sector. The age bracket of 45-59 currently dominates, owning 40% of the small business sector. Australia is currently the second best country for social entrepreneurship with the main reason for starting a business being to acquire wealth. So, with that being said, let's jump right into what aspects affect a small business for it to become unsuccessful.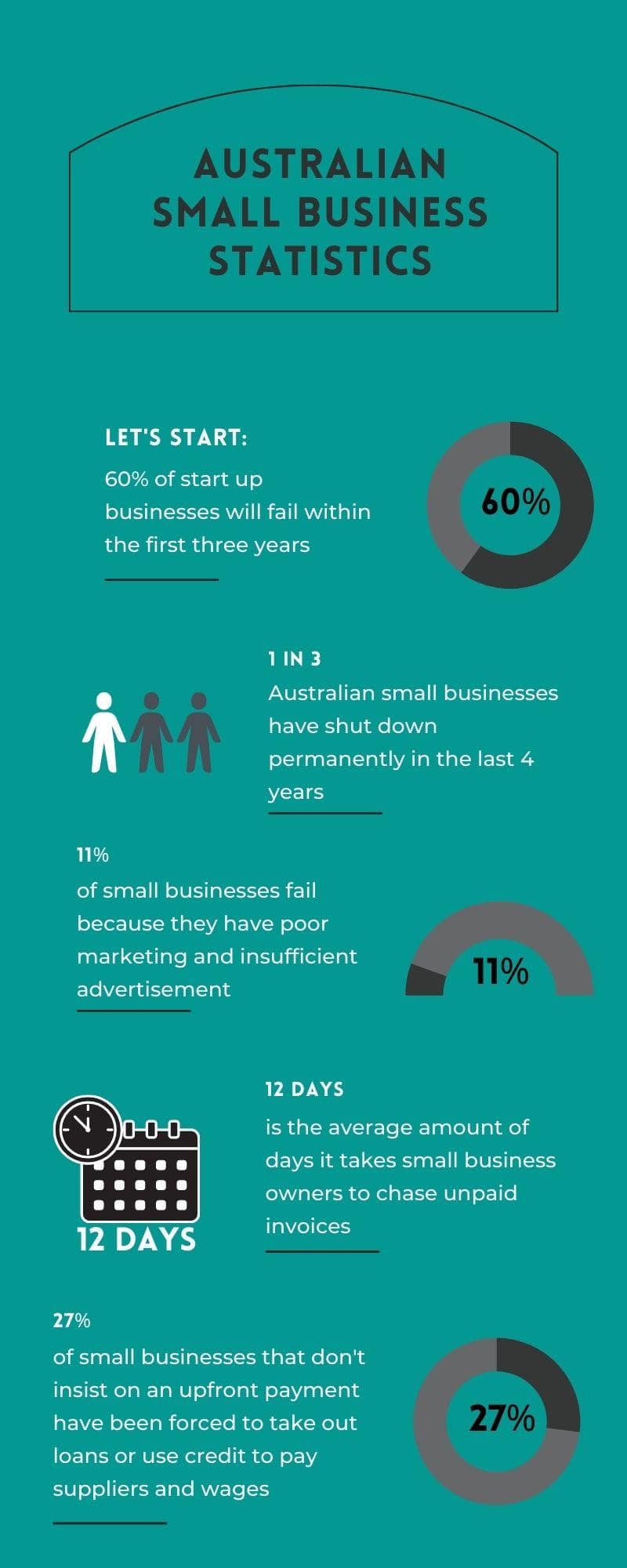 Where did these businesses go wrong?
We are going to take a look at where small businesses went wrong and the reasoning behind their failures. Firstly, it's important to note that 60% of start up businesses will fail in the first 3 years and of that 60%, 50% are profitable. So, I think it's safe to say it's a hard gig out there and Australia has a very high failure rate within the small business sector. A study conducted by McCrindle found that out of all the new companies that launched four years ago, 46% have closed their doors in the years following. As well as the 2 million businesses in operation in Australia four years ago, 1 in 3 (36%) have closed down permanently. A study completed by Fundsquire shows the following factors were the largest contribution to unsuccessful businesses: failing because there is no market need for their products or services, they run out of cash, they don't have the right team running the business, they were outcompeted, pricing and costs issues, poor product offerings, lacked a business model, poor marketing and that they ignored their customers. Another study by Open Colleges found that financial management was also a large contributor to failing businesses which also included a lack of business experience, cash flow issues, not starting with enough capital, a lack of budget framework and overuse of credit. They established that 11% of small businesses fail because of marketing problems which include insufficient advertising and poor promotion. On top of this small business owners report that they spend an average of 12 days per year chasing unpaid invoices which puts small businesses under more financial strain. JMA Credit Control explains that 27% of small businesses that don't insist on upfront payments have been forced to take loans or use credit to pay suppliers and wages.

What makes a small business successful
So now that we've laid out the alarming facts that will often crush small businesses, let's discuss how we avoid and overcome these issues. To start off on a positive note it's important to acknowledge that micro and small businesses are more likely than large businesses to innovate and bring new goods and services to the market which is why each small business has their own unique 'difference'. After finding that one of the main reasons small businesses fail is that there is no market need for their services, we looked into the most profitable start up businesses which are, e-commerce, chrome extensions, mobile apps, enterprise Saas (software as a service) and SMB Saas. This of course isn't to say that other start up businesses won't succeed, it also comes down to how unsuccessful businesses were measuring their success or if they were at all. Nine Advisory recently conducted research into how to measure small businesses success and the best ways to do so, they found that 58% of SMEs (small and medium enterprises) said financial management was a key success metric. They also found that 56% of SMEs reported that positive word of mouth was a measure of success. Nine Advisory work on the '9 pillars of success' that they advocate for small businesses to incorporate. The 9 pillars include governance and compliance, leadership and management, reporting, business process, information technology, product and customer, people and partnerships, marketing and sales. It is a framework that is designed to look beyond the simple small business accounting, instead of just working around profitability as a success measure the 9 pillars focus on building a high performance and high growth business to be successful on every level.
With the economy forever changing, new policies coming into play every couple of years and the odd global pandemic striking the world it is safe to say that businesses small, medium or large need to be prepared for the future. It is now more important to plan for a broad range of future possibilities that your business could experience. Define your purpose as a business and commit to it, making sure that there is a need for your service and product in your market industry. Make sure you are meeting the needs of your customers expectations as well as analysing a strategic business model that works efficiently and correctly, as this was yet another main factor into why small businesses failed. Ensure that you do thorough research into each role that is required to properly run your business as well as exploring different options on what employees will suit those roles best, a strong integrated team can make a huge impact. An important component that every business will need to consider (especially start ups) is having sufficient funds to operate the business as well as keeping it alive for the lifespan that the business owners expect it to last for. Market research is something that all business owners no matter how small or big should undertake. Market research involves collecting data around your target demographic and consumers so that businesses can market themselves better within the industry and it is a vital part of creating a strategic business model.


Conclusion
After analysing small business statistics relevant to Australia it is obvious that it is no easy job to start up a small successful business and manage it without running into financial troubles or other various factors. The statistics show there is less than a 50% chance of success rate for small businesses to still be running after 3 years. This unfortunately diminishes business owners' dreams in starting businesses solely because they can't afford to take the risks of running a small business. If you have the next big business idea you may need to think twice before throwing yourself into the deep end for all of it to come to an end in 3 years so, plan, strategise and conquer!